Former colleague visits CTS's restaurant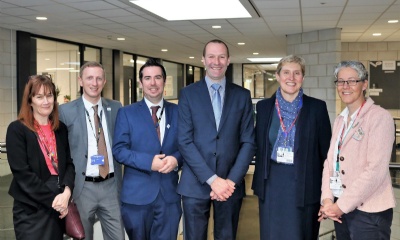 Former BWT senior leader John Henrys, who is now CEO of the Learning Without Limits Academy Trust, recently visited our restaurant with three of his Principals to see the lunchtime provision we offer.
Mr Henrys, who left Brooke Weston in the summer, was formerly Principal of Corby Business Academy, Trust Executive Principal and led on Trust wide innovations.
He visited the restaurants at both Brooke Weston Academy and Corby Technical School to show his new colleagues the rolling lunchtime system which cuts down on queuing and also to sample the food that we serve. The visitors were accompanied by Tim Laws, Senior Operations Manager and Chris Lapsley, Trust Catering Manager.
Mr Henrys, who is in charge of five schools in Leicestershire, said: 'We are looking at lunchtime provision in our Trust and are currently going through a procurement process for our catering and are taking the opportunity to look at how we run our lunch timings. Essentially what we are hoping to achieve in our procurement is to get the same standard of food that you have here.'