Christmas Showcase at Corby Technical School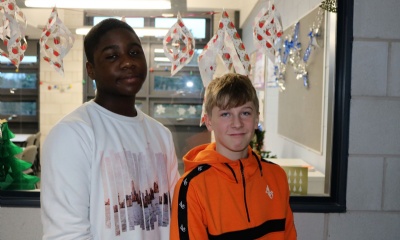 Students from all Year groups took part in an amazing festive Showcase at Corby Technical School, with the evening being hosted by two Year 9 students.
Samuel and Finlay were drafted in to introduce the acts and provide a bit of comedy on the night. They certainly rose to the challenge with Principal Angela Reynolds describing their performance as fantastic, despite it being the first time they had fronted a show.
The acts included musicians, dancers, solo singers, rappers and the school choir, Vox. The staff also got in on the fun performing mini panto, Paul Pan. They and some of the acts reprised their performances the following day for CTS students and staff who hadn't seen the previous show.
Samuel said: 'We decided to work together on a double act. We didn't script it but tried to put some jokes between the acts to get the audience on board. It was quite high energy. My favourite act was Seth who was rapping Ladbroke Grove.'
Finlay said: 'We were bouncing things off each other and it definitely helped having the other person there on stage. Overall it went really well and it has definitely increased our confidence. We would like to do it again if we got the chance. My favourite act was James who performed a song. On the night he walked out, was blowing kisses to the audience and was really confident.'
Principal Angela Reynolds said: 'This was a great showcase which showed off the many talents of our students. Samuel and Finlay were great comperes, like mini Ant and Dec, and they certainly got the crowd going. It was a perfect evening and I am so proud of everybody involved. It was a great end to the term. Thanks to everyone who took part.'
To see a gallery of pictures click here.