CTS highlights Mental Health Awareness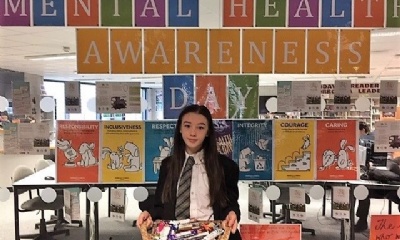 Corby Technical School ran a busy Mental Health Awareness week for students with the motto 'In a world where you can be anything, be kind.'
Students had form time activities and made pledges about being kind. Each year group attended assemblies based on Talk Out Loud reducing the stigma around mental health. Students wore wrist bands to show support and to let others know 'it's ok to not be ok.'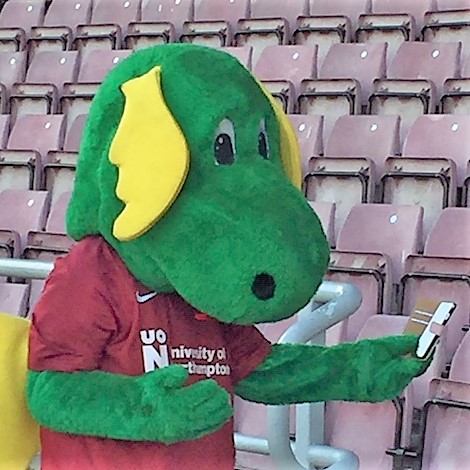 Students had watched a Buzzed drama performance in December as part of 'Challenge Tessa' to raise awareness and reduce stigma around mental health. This resulted in them being invited to Northampton Town Football Club to make a brick wall with positive messages about mental health, alongside other schools in the county. Two members of the Wellbeing Forum, Mollie Mitchell and Denisa Mancas, laid the school's brick and met the Cobblers mascot.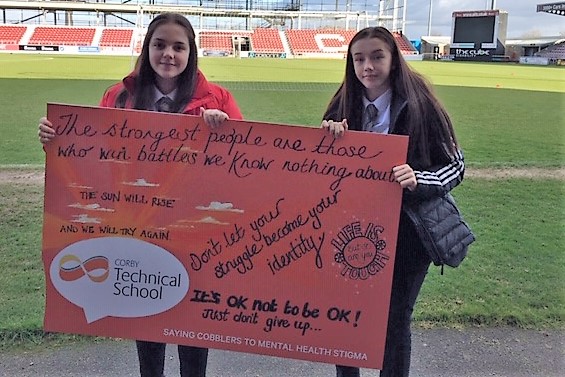 Members of the Wellbeing Forum also handed out bars of chocolate to school staff on Friday morning as a thank you and a boost to staff emotional wellbeing.
Three quarters of teenagers with a diagnosable conditions do not get the support with their emotional health that they need. Even without a mental health condition young people face many challenges that range from friendship break ups or exam stress to family breakdowns and bereavement.
Corby Technical School is committed to giving its students the opportunity to develop resilience by teaching them coping mechanisms, raising awareness and supporting them to cope with the highs and lows that life inevitably brings. Staff and students are committed to looking after their own emotional health. The school community is striving to empower each other, develop resilience and highlight the importance of support without stigma.
Article and photographs courtesy of
Education Welfare Officer, Emma Toye