County School Challenge team visits CTS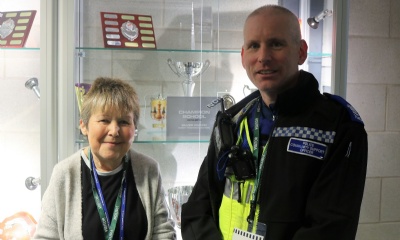 Representatives from Northants County School Challenge visited Corby Technical School to see how the prototype of last year's winning idea is progressing.
The CTS team won the event with their card game, STALK, which raises awareness of knife crime. Students Grace, Joel, Rhys, Rio and Sam, aided by CTS staff member Monica Moore, have trialled it with students at Oakley Vale Primary School and are refining the idea still further.
PCSO Steve Coles and Henny Cameron, from Northants Police met Monica, Sam and Rhys for a progress report on the project.
PCSO Coles said: 'The students have now been tasked with creating a learning package for the game so they can send it as a complete package, with learning outcomes and lesson plans to schools. I have been so impressed with the team. They are keen to take it forwards and the idea is to give a game to all the schools in the county, and maybe even further afield.
'Most years the NCSC tends to culminate in a one-off event so this is the first time that an idea has won that could potentially turn into a sustainable business. That is down to the school and young people who are very ambitious so it is a learning curve for all of us.'