CTS teacher wins Teacher of the Year Award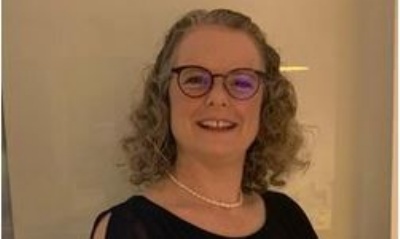 Congratulations to CTS teacher, Angela Brown, who has won the English Teacher of the Year Award in the Northamptonshire Teaching Awards.
Angela, who has worked at various Trust schools over more than 20 years, runs her own education consultancy. She was nominated by CTS's Assistant Principal Anna Jenkins who commended her 'organisational drive and relentless positivity.' The award was made after details of her work both in school, across the Trust and in supporting the wider professional English teaching community was outlined.
Anna said: 'Angela is an incredible teacher of English who is skilled yet humble, diligent in all she does and unrelenting in meeting the high standards she sets for herself. She is caring and warm, and constantly seeking ways of being innovative and meeting the needs of the students to whom she gives so much. She is an absolute asset both to the school and to English education as a whole.'
The awards ceremony took place via an online platform and Angela answered questions about her ethos and teaching practice before being named the winner. She said: 'It was completely surreal.
I joined CTS in 2018 but I had been at BWA for 17 years before that and have also worked at Caroline Chisholm in Northampton and Kettering Buccleuch Academy. I came back to lead the English Language course at CTS and was excited by the prospect of teaching A Level language to a group that I had done some consultancy work with. They were a lovely group and all did very well.
'You have to love the students and always put them first. You have to be optimistic, always think that there are possibilities and a chance for them to succeed. If you treat them individually and meet them at their own starting point - that is the key to successful teaching. A lot of my colleagues have congratulated me via Twitter and that has meant a huge amount to me.'
Angela also worked with Sixth Formers and high ability GCSE students at Corby Business Academy, collaborates with hundreds of English teachers online and has recently had a chapter published on stylistic analysis of unseen poetry in the academic title "Teaching English Language and Literature: 16 to 19" by Ahmed et al.
Carly Waterman, Principal of Lodge Park Academy in Corby, said: 'This incredible teacher made me into the teacher I am today. And that was when I was her Head of Department! A truly exceptional teacher who makes everyone around her raise their game. Well done Angela. So well deserved.'
Television science presenter Dallas Campbell, who went to college with Angela, also sent his congratulations via Twitter as did hundreds of her English teaching peers.
CTS Principal Angela Reynolds said: 'We are all incredibly proud of Angela and her achievement. She is an exceptional teacher and is an inspiration to all those in her profession.'
Trust CEO Dr Andrew Campbell said: 'Huge congratulations Angela, your contribution and professionalism has made a huge difference to hundreds of students across our Trust schools over the years.'