CTS Cultural Day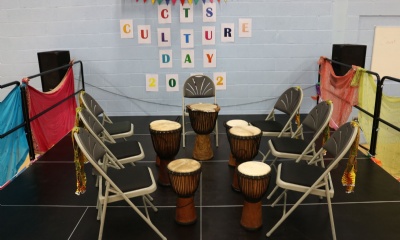 We have held our first Cultural day in school today, Year 9 student Gretil had the idea of holding this event to give students the opportunity to share their heritage as well as being able to learn about different nationalities.
Students and staff had the opportunity to watch the performances during lunch, and students performed various dances, music and showcased their displays representing their cultures.
Students performed a song using their Djembe drums showcasing African culture, Year 9 students Gretil and Maya performed a K Pop dance, Year 7 students Harley and Rhys wrote an amazing poem about culture and shared this.
Gurkirat in Year 8 performed Bhangra dancing with help from Mrs Sahota and Miss Kaur. Well done to Gurkirat for teaching them the dance. Saketh in Year 7 read a tranditional Tamika poem and our choir sang a song in both English and Polish and Year 7 boys performed an African dance off.
It was a fantastic day and thank you to Mrs Sahota, Miss Kaur, Miss Patrick and Mrs Brook who have worked so hard to make this a success.