Sixth form transition Sept 2021
The information on this page is to support students in Year 11 with their transition to the Corby Technical School sixth form, or with moving on another school or college. As well as providing learning materials, we are keen to support you with your well-being. Please contact staff at school if you would like support with anything, our website also has a lot of resources for you to use. If you are not sure who to contact please e-mail enquiries@corbytechnicalschool.org.
From Tuesday 1st June you will have the opportunity to take part in the following activities:
Transition study materials for courses being offered at Corby Technical School in September 2021.
A weekly online lesson in each of the courses being offered.
A subject masterclass in each subject which will take place in school in the week commencing Monday 28th June.
A weekly online catch-up session with tutors. This is an informal catch-up where you can speak with staff and friends. These sessions are on a Wednesday between 13:30 and 14:00 for the next four weeks.
Study materials for a range of online courses which will be useful for a broad range of interests.
Study materials to support you with careers. These are useful for students who are moving on to apprenticeships or college.
External learning resources
There are lots of companies that offer free online qualifications. This is a great way to extend your knowledge and skills and put yourself a step ahead of your peers!
OpenLearn is the online platform for the Open University.
There are nearly 1000 courses on OpenLearn, all of which are currently free to study. OpenLearn courses cover a wide range of subjects taught across the OU curriculum.
Alison is another online organisation offering free qualifications.
Depending on your learning goal, you can choose from:
Certificate courses (average time: 2-3 hours), which help you focus your learning to provide you with specific expertise in your field or industry.
Diploma courses (average time: 8-10 hours), which are designed to give you a more extensive understanding of a subject area, by helping you master multiple concepts within a subject.
Learning Paths (average time: 18-20 hours), which are a combination of niche courses that have been specially designed by experts, to help you: Broaden your skill set; Progress your knowledge; or Master a subject.
Note taking
If you choose to go on to further study, there is a high chance that you will be asked to take notes during your lesson. It is worth practising this skill to make sure that your notes are succinct but also informative, containing key information.
One popular way of doing this is called the 'Cornell method'. Watch the video here for more information about this, then choose another educational video about a subject of interest and try out the method.
Extended Project Qualification
For any student considering the EPQ in the 6th form, this online course gives excellent preparation and guidance.
Preparing for A levels
Step up to A level Maths – resources here
Head Start to A level Biology – Book from Amazon here
Head Start to A level Chemistry – Book from Amazon here
Head Start to A level Physics – Book from Amazon here
Careers Pack
You have a Careers support and Guidance session with Mr Rogers every Wednesday in June from 2 - 3pm.
To help you improve your success habits Mr Rogers has recorded this video for you
https://web.microsoftstream.com/video/ed0a574f-3872-4974-9734-01d226c46faa

BeReady Employability Programme
Below is a link and a list of accredited employability modules that you can compete through Corby Technical School. These modules are recognised and valued by employers, completion of these modules will give you excellent knowledge and skills that will support you in the workplace.
Once you complete a module remember to download your certificate and update your CV with the module details.
Recommended modules
Employability
Networking
Negotiation
Creativity and Innovation/Presentation Skills
Interviews and Assessment Centres
Applying for Jobs and Apprenticeships/Starting the Job Hunt
Foundations of Resilience
Developing Resilience
Introduction to Personal Branding
Developing your Personal Brand
Foundations of Communication
Developing Communication Skills
Assertive Skills
Confidence
Developing Leadership
Foundations of leadership/Dealing with Stress
Your account information has been sent to your school email and Mr Rogers has set you work through the portal, once you have your login go to https://learn.bereadygroup.org/login/index.php
If you have any issues with this please email Mr Rogers – drogers@corbytechnicalschool.org
Transition Study Packs
We have provided this transition study pack to support your progression from GCSE to Key Stage 5. The work will compliment the online lessons that will also be taking place on MS Teams.
Creative Digital Media Production
English Language and Literature
For students who may be studying apprenticeships or college courses you may choose to work through our Careers Study Pack.
Online Lessons
All of the online sessions will be taking place on Microsoft Teams. All Year 11 students from Corby Technical School will have access to all channels within a team called 'CTS 6th Form Transition'. For students who are from other schools will have received an invitation via e-mail for these sessions. Please contact the school if you have not yet received this information.
Please see the schedule below: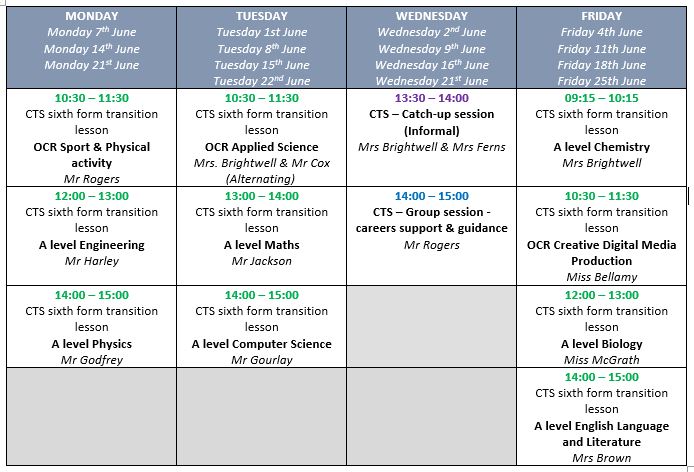 Subject masterclasses
All of the subject masterclasses will be taking place at Corby Technical School and will give you a further taste of the course and allow you to meet staff who will be delivering these courses. You should attend those classes that you are interested in. They are for all prospective students of Corby Technical School.
Please see the schedule below:

If you need any technical support please click here.