Sixth form transition Sept 2023
The information on this page is to support students in Year 11 with their transition into Corby Technical School Sixth Form. The activities will help with a move to another school or college, providing similar courses are on offer. As well as providing learning materials, we are also here to support you with your wellbeing and post-16 pathways in any way we can. Please contact enquiries@corbytechnicalschool.org if you need any additional help or guidance, and a member of staff will get back to you.
From Monday 3rd July you will have the opportunity to take part in the following activities:
Transition study materials for courses being offered at Corby Technical School in September 2023.

A subject masterclass in each subject, which will take place in school during the week commencing Monday 3rd July.

Study materials for a range of optional online courses
External learning resources
There are lots of companies that offer free online qualifications. This is a great way to extend your knowledge and skills and put yourself a step ahead of your peers!
OpenLearn is the online platform for the Open University.
There are nearly 1000 courses on OpenLearn, all of which are currently free to study. OpenLearn courses cover a wide range of subjects taught across the OU curriculum.
Alison is another online organisation offering free qualifications.
Depending on your learning goal, you can choose from:
Certificate courses (average time: 2-3 hours), which help you focus your learning to provide you with specific expertise in your field or industry.
Diploma courses (average time: 8-10 hours), which are designed to give you a more extensive understanding of a subject area, by helping you master multiple concepts within a subject.
Learning Paths (average time: 18-20 hours), which are a combination of niche courses that have been specially designed by experts, to help you: Broaden your skill set; Progress your knowledge; or master a subject.
FutureLearn Learn new skills, 100% online and in your own time, with world-class universities and experts. Most course are still free.
FutureLearn courses are divided into weeks. These contain various activities that you should aim to complete within the week, each one built from a sequence of straightforward steps, to help you learn.
Note taking
If you choose to go on to further study, there is a high chance that you will be asked to take notes during your lesson. It is worth practising this skill to make sure that your notes are succinct but also informative, containing key information.
One popular way of doing this is called the 'Cornell method'. Watch the video here for more information about this, then choose another educational video about a subject of interest and try out the method.
Preparing for A levels in maths and science
Step up to A level Maths – resources here
Head Start to A level Biology – Book from Amazon here
Head Start to A level Chemistry – Book from Amazon here
Head Start to A level Physics – Book from Amazon here
Transition Study Packs
To support your progression from GCSE to Key Stage 5, please complete the transition pack in each of the three subjects you would like to study
Creative Digital Media Production
English Language and Literature
For students who may be studying apprenticeships or college courses you may choose to work through our Careers Study Pack.
Subject Masterclasses
All the subject masterclasses will be taking place at Corby Technical School. Each session is designed to give you a detailed insight into the subjects you have selected and allow you to meet staff who will be delivering these courses. The masterclasses are only open to students who have made an application to Corby Technical School sixth form.
Please see the schedule below (the rooming will be confirmed on the day of your masterclass):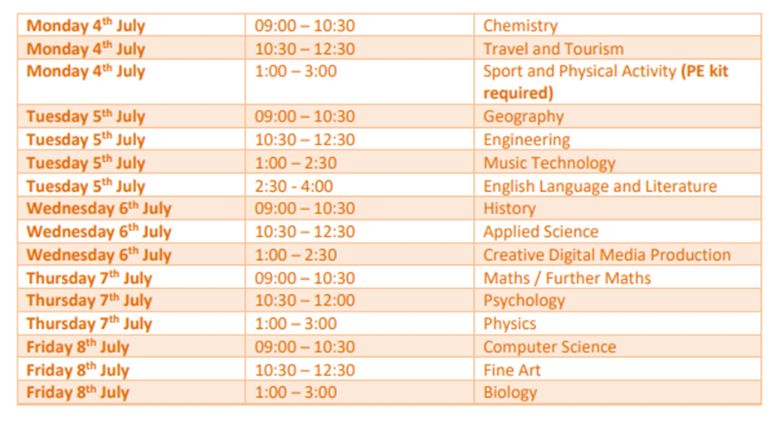 If you need any technical support please click here.