Uniform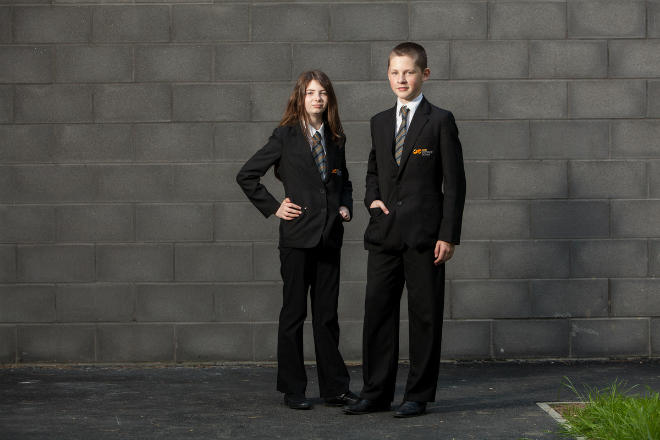 Students at Corby Technical School are expected to be smart and properly dressed at all times. The full uniform must be worn during normal lessons. We do expect that jewellery/hair accessories are kept to a minimum and that hair colour is of a natural tone. Nail extensions are not permitted: these prevent students from effectively participating in activities and pose a risk to students' safety.
Please note that no jewellery can be worn during PE lessons and other physical activity. Please also note that facial and body piercings are not permitted at any time. It remains the responsibility of the student to ensure that this occurs.
Corby Technical school may provide temporary uniform to students if required. Where a student persistently arrives without the appropriate uniform and/or refuses to wear such temporary items as are provided s/he will be subject to the School's behaviour and discipline code.
We do not have lockers in school. All students must ensure they have a suitable bag for school that is big enough to carry necessary PE kit/footwear, drinks bottle/packed lunch, school books and stationary. These should be plain in design and not display any inappropriate wording or images.
Uniform

School tie (worn full length)

Black blazer with school logo

White shirt to be worn tucked in with top button fastened

Black trousers or loose fitted skirt at knee-length.

No over the knee socks.

Black plain shoes (to be worn with black socks)

PE kit

Sport shirt (long sleeved) with logo

Black polo top with school logo

Black shorts or skort

Black tracksuit bottoms (optional)

Black sports socks

Sport trainers
Items in bold should be purchased from our uniform supplier. Any other uniform items can be purchased economically from any uniform supplier or supermarket.
Notes about purchasing uniform
School trousers must not be of a 'jean-like' style and should be a formal trouser. There should be no back pockets or studs. 'Skinny' trousers or trousers cropped at the ankle should not be worn. Skirts must be of a formal design and not a 'tube' skirt. The skirt must be at knee length.
Students will also be required to bring other appropriate kit to their PE lessons where necessary. For example, shin-guards for contact sports, studded boots for field sports, mouth guard for some PE activity. Students will be given specific advice from their PE teachers. Ideally students should have two pairs of trainers, one pair for indoor sport of non-marking or white soles and one pair for outdoor sport. Plain black jogging bottoms or sports trousers may be worn in the colder months.
Shoes
Shoes should be plain black and smart leather or leather alternative.
Purchasing Uniform
The following uniform items should be purchased from our uniform supplier

School Blazer
Tie
PE Polo shirt
PE shorts or skort
PE sports shirt (long sleeved)
Other uniform items can be purchased from the retail supplier of your choice.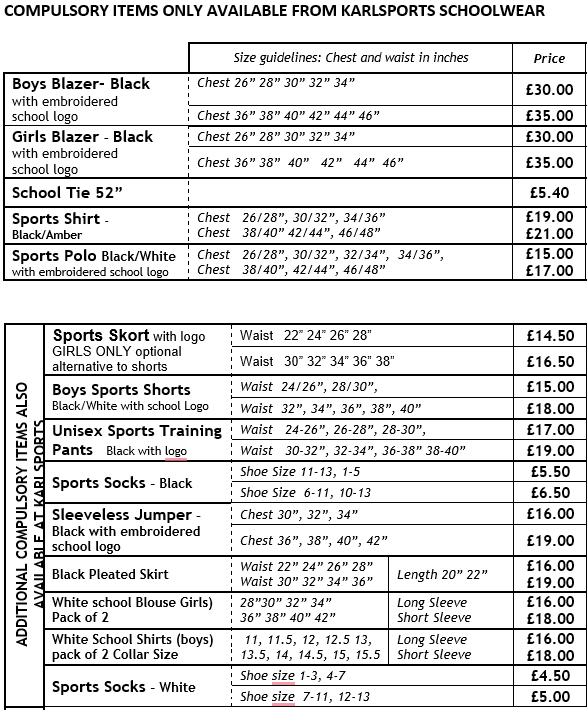 Making Uniform more Affordable
We work very hard to keep our uniform affordable by keeping our compulsory uniform items to a minimum and ensuring we obtain the best possible prices from our uniform supplier.
Our blazer is good quality and if purchased with a little 'growing room' this should fit for around 2 years. Our plain black socks and joggers can be purchased very reasonably from local sports shops and plain white shirts can be purchased in multi-packs to further reduce the cost.
We would also encourage our parents to offer their good quality used uniform for sale on social media, or they can donate clean, good quality items to school for one of our Uniform Sales.
If your child is joining the school as a new student, you are in receipt of Free School Meals and are struggling to purchase the uniform, please contact us on enquiries@corbytechnicalschool.org, and we will be able to help you.