Uniform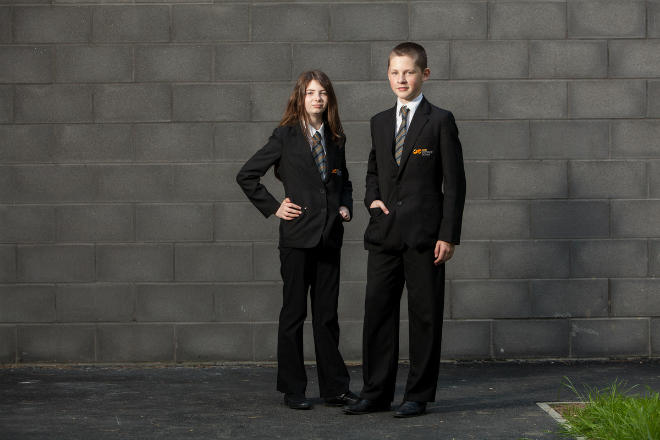 Students at Corby Technical School are expected to be smart and properly dressed at all times. The full uniform must be worn during normal lessons. We do expect that jewellery/hair accessories are kept to a minimum and that hair colour is of a natural tone.
Please note that no jewellery can be worn during PE lessons and other physical activity. Please also note that facial and body piercings are not permitted at any time. It remains the responsibility of the student to ensure that this occurs.
Corby Technical school may provide temporary uniform to students if required. Where a student persistently arrives without the appropriate uniform and/or refuses to wear such temporary items as are provided s/he will be subject to the School's behaviour and discipline code.
Boys Uniform
School tie
White shirt
Black trousers
Black blazer with school logo
Black plain shoes (to be worn with black socks)

Girls Uniform
School tie
White shirt (not a blouse)
Black trousers or skirt at knee length
Black blazer with school logo
Black plain shoes (to be worn with black socks)
School trousers must not be of a 'jean-like' style and should be a formal trouser. There should be no back pockets or studs. 'Skinny' trousers or trousers cropped at the ankle should not be worn. Skirts must be of a formal design and not a 'tube' skirt. The skirt must be at knee length.
Boys and girls PE kit
Sport jumper with logo
Black polo top with school logo
Black shorts or skort
Black tracksuit bottoms
Black sports socks
Sport trainers (one pair for indoor sport of non-marking or white soles/one pair for outdoor sport)
Students will also be required to bring other appropriate kit to their PE lessons where necessary. For example, shin-guards for contact sports, swimwear for swimming lessons, mouth guard for some PE activity. Students will be given specific advice from their PE teachers.
Shoe Gallery
To assist you and your child with buying school shoes we have provided you with the following guidance: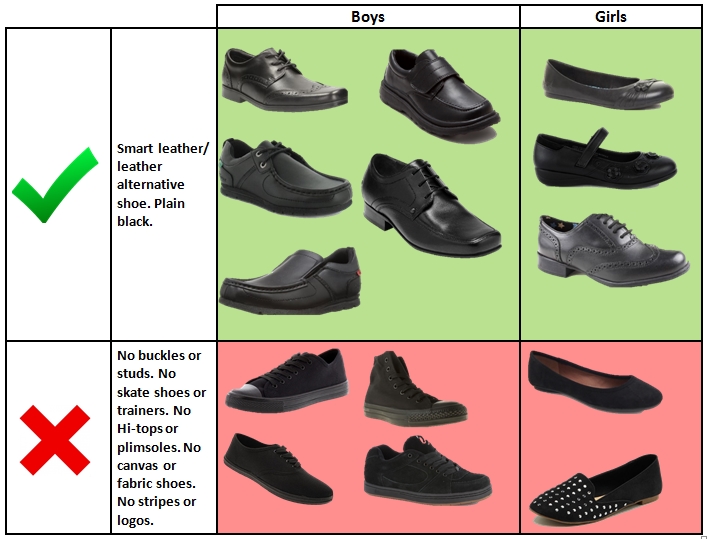 The following uniform items should be purchased from our uniform supplier

School Blazer
Tie
PE Polo shirt
PE shorts or skort
PE Jumper
All other compulsory uniform items are available at KS Schoolwear, however parents can choose to purchase them from any retail uniform suppliers.