Year 8
Home Learning Work
What work should I expect?
You will receive work from every subject each week in Microsoft Teams. The work will be uploaded on Monday and Due on Friday, so that you can complete it at any time during that week. However, we have put together a suggested timetable for you to help you space out your learning. For a printable version click here.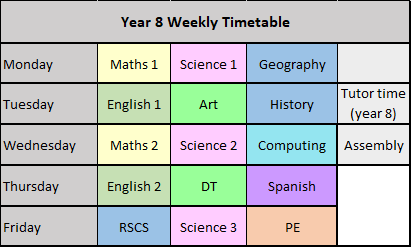 Your Learning Check and Feedback tasks will be be made up of a combination of self-marking quizzes, and assignments that you will turn in to your teachers so that they can give you feedback. There is a timetable for assignments below:

For guidance on how to complete and hand in your assignment via phone or laptop, please watch the video here or click here for a word document.
If you need any help/support, please email: homelearning@corbytechnicalschool.org
Curriculum Maps